[INTERNATIONAL EXCHANGE TYPE SHARE HOUSE] OPEN on September 1st! Opening recruitment😊🌈
Thanks to you, there's only one room left!
OPEN September 1, 2021 (Wed), PORTAL International Exchange Share House is looking for opening members !! 👏😆
📣 Initial payment from 57,000yen. Monthly fee from 35,000yen
📣 Contract term from 3 months to 2 years
📣 FREE security deposit and brokerage fee
📣 NO guarantor required!
About PORTAL share house🏠
🌈 Low rent and initial cost‼️
All household appliances (refrigerator, microwave oven, washing machine, etc.) are available.
Private rooms are equipped with beds and storage space so you can move in easily♪
🌈 This is an international share house, so every day is exciting!
A maximum of 8 residents are expected, with 2 Japanese nationals
If you have difficulties in coping with culture shock and different ways of thinking, this is the perfect chance to exchange values, broaden your horizons, and prepare for a diverse culture society.
We are looking for people who can actively interact with each other to improve their language skills and make friends from all over the world! 😄
🌈 And more‼️ Portal Share House also offer below services 😊🌈
✨ Life support (4 languages)
✨ Online Japanese lesson
✨ Company tours for foreigners who want to get a job in Japan
[Designing an "irresistible" life with the tenants and looking forward to tomorrow] ✨ ✨ ✨
▼ I am a member of Jutaku Kouei ♪
Location
Recently renovated house in Katakura-machi, Hachioji city ✨
7 minutes walk from Keio Katakura Station (Keio Takao Line)
* 5 minutes walk from convenience store
* 15 minutes walk from supermarket
Layout
6LDKS + free space
Number of residents
Maximum 8 people (when 8-tatami/12m2 rooms are shared)
Rent/Utilities fees/First-time payment
ROOM 101 (tatami room/9㎡ ): 25,000 yen +utilities 15,000 yen = 40,000 yen / month
ROOM 102 (tatami room/12㎡): 28,000 yen +utilities 15,000 yen = 43,000 yen / month
* For room sharing by 2 people 20,000 yen / person + utilities 15,000 yen = 35,000 yen / month
ROOM 201 (tatami room/12㎡): 30,000 yen + utilities 15,000 yen = 45,000 yen / month
* For room sharing by 2 people: 22,000 yen / person + utilities 15,000 yen = 37,000 yen / month
ROOM 202 (western room/9㎡): 30,000 yen + utilities 15,000 yen = 45,000 yen / month
ROOM 203 (western room/9㎡): 30,000 yen + utilities 15,000 yen = 45,000 yen / month
ROOM 204 (tatami room/7㎡): 25,000 yen +utilities 15,000 yen = 40,000 yen / month
* Utilities includes water-gas-electric bills, WiFi, and daily consumables
First-time payment: around 57,000-65,000 yen (including rent guarantee, fire insurance, key issuance fees)
* No deposit / brokerage fee
* No guarantor required
Remodeled & renovated 🏠✨
Prospect residents are welcome for on-site inspection (request form below ↓ 😊)
▼Living room (sofa / low table / 55 inch large TV) There is also a large garden ♪

▼Dining kitchen (gas stove, refrigerator, electric kettle, microwave, electric kettle, toaster)

▼▲ (Bathtub x Washbasin x Washing machine) x 2 (Gender-separated)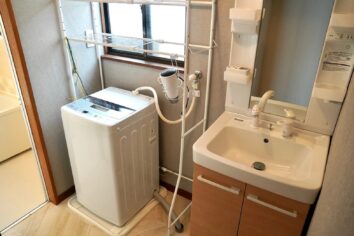 ▼ Room 201 (tatami room 12㎡/ for 1 to 2 people)       ▼ Room 203 (western room 9㎡ / for 1 person)
Private room equipment: air conditioner, bed, mattress, bed frame, 3-piece futon set, closet

▼ Move-in stimulation by Jutaku Kouei members ♪

▼Room tour video ♪